Workshops
Sparx Your EQ
Posted on April 21, 2014
On 4 and 5 December 2013, the Inspiring Wo-Men Business Club organised its Leadership Academy, where successful business leaders and managers, both men and women, shared their experiences and knowledge.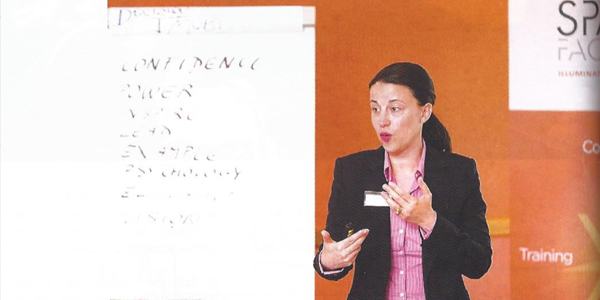 At this event, Sparx Factory S.A. facilitated a dynamic workshop entitled "Sparx Your Emotional Intelligence". This inspiring topic helped eager participants appreciate that in today's business world, the most effective leaders are alike in one crucial way: they all have a high degree of Emotional Intelligence. Emotional intelligence abilities - rather than IQ or technical skills - emerge as the discerning competency that best predicts who among a group of very smart individuals will lead most competently.
The workshop was informative, stimulating and packed with situational examples! During this highly interactive session, participants were able to increase their understanding of the model of Emotional Intelligence, which is comprised of five skill areas (1) Self-Awareness: knowing one's internal state, preferences, resources, and intuitions; (2) Self-Regulation: managing one's internal states, impulses, and resources; (3) Motivation: emotional tendencies that guide or facilitate reaching goals; (4) Empathy: Awareness of others' feelings, needs, and concerns; (5) Social Skills: Adeptness at inducing desirable responses in others.
Two of Sparx Factory's knowledgeable presenters, Catharina Biver and Patricia Quiddington, unfolded the behaviours observed in the six emotional leadership styles, through the Visionary leader, the Coaching leader, the Affiliative leader, the Democratic leader, the Pacesetting leader and the Commanding leader. It became clear to the audience that leaders who have mastered four or more leadership styles are said to have generated the best working climate to deliver business performance.
There were numerous lively discussions and inspired feedback around the development of emotional intelligence. The members of the workshop group, who were all enthusiastic and positive, became aware that Emotional Intelligence is not inborn, but a skill that is learned and can be developed at any stage of one's life and career.
Participants walked away with practical tools in order to help them develop their ability to be better leaders, be aware of and manage their emotions, improve their relationships, be more effective at influencing people and teams, and coach others in raising this critical dimension.
You can download the article.