Events
Sparx rocks at the forum for Nordic women in business
Posted on March 31, 2015
The first forum for Nordic women in business in Luxembourg drew a large and eclectic crowd!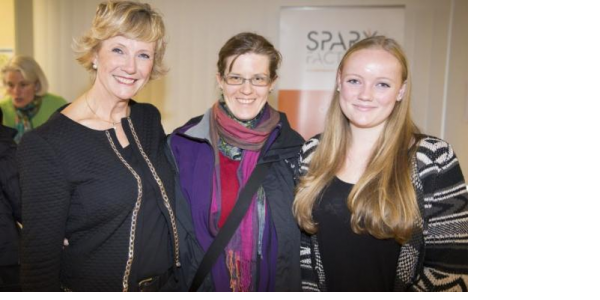 Nordic women rock -- and they know it!
Entrepreneurship: the first forum for Nordic women in business in Luxembourg drew a large and eclectic crowd over the weekend.
There are a surprisingly large number of Nordic female entrepreneurs in Luxembourg and while their activities are extremely varied, they often face similar issues and need more opportunities to make their businesses known.
This is why Gigja Birgisdóttir and Kristel Weinreich, board members of the, decided to organise the forum that took place this weekend at the Centre sociétaire in Cents. "We wanted to bring these business owners together, so they could get to know each other and promote their services or products at the same time," explained Weinreich. "It's been a great experience," added Birgisdóttir. "When we started planning the event last October, we found around 60 Nordic female entrepreneurs here, but along the way we've discovered many more.
At the moment, our list counts more than 80. We feel it's important for them to network with likeminded women." An added bonus is that the initiative has also brought new and younger members to the 40 year old club.
Entrepreneurs in the spotlight
Danish jewellery designer Stine Bülow, who can usually be found in her workshop within the Ben & Pepper boutique, was among the participants. "I'm not usually active with any of the Nordic clubs, so this event is great for me," she said. "It's important to be seen and I've met people here who don't know me. It's also inspiring to meet others."
Catharina Biver, managing director of the coaching and training company Sparx, was equally enthusiastic: "Promoting Nordic women in business is a wonderful initiative. I believe in synergies and meeting with others this way also leads to finding potential ideas for collaborations. Nordic women are good entrepreneurs, we're great at sticking together, we're proud of what we do and we have no problem sharing it with others."
The businesses participating in the forum represented a wide range of activities, including art, food, fashion and style, health and beauty, jewellery, design and decoration, baby products and consulting. Two fashion shows were also on the programme and the event as a whole unexpectedly attracted quite a lot of non-Nordic visitors too. "The Nordic community in Luxembourg has always been a focal point for cutting-edge fashion and entrepreneurship, which is why the rest of the community is always delighted to give support," said Jim Kent, managing partner at The Insiders.
"Creating a network is important"
"I'm actually a bit surprised by the number of people who showed up, it's fantastic and the atmosphere is great," said Jane Holst Kristensen, who opened the Danish Deli with her husband two years ago.
"This forum is an interesting idea because many other things can come of it. Creating a network is important. Making a name for yourself in Luxembourg isn't always easy. It takes time and a lot of work."
Bea Ludovicy-Blom and Björg Gunnsteinsdóttir, the women behind the increasingly popular ScanPost media outlet, were also happy for the opportunity. "What surprised us when we started our activity was how many associations, clubs and companies in Luxembourg were actually related to Nordic countries, without there necessarily being a lot of interaction between the different communities. We wanted to gather everything in one place and become a Nordic platform, which is also the spirit of what is happening here today. There are so many interesting people to meet and stories to tell."
As Birgisdóttir concluded: "What we Nordic women have in common is that we were raised to be independent in all ways. We are full of energy and creativity and we want to make a difference!"
--- DELANO (31/03/2015)
Copyright © Maison Moderne™