Events
From surviving to thriving
Posted on October 23, 2015
Be prepared for year-end, and build your resilience, with MBTI®.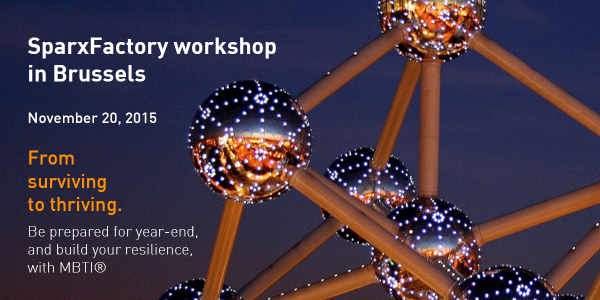 How can you turn these busy weeks ahead into a more peaceful and joyful experience for yourself and the people around you?

Come find out with Sparx Factory in this highly practical, half-day workshop designed to build your resilience, and help you to rise above the chaos to experience end-of-year calm.
"51 percent of European workers consider work-related stress common"
European Agency for Safety and Health at Work (EU-OSHA)

"The Christmas period is the most stressful holiday of the year"
Travelodge UK Survey, 2013
Participants will:
Complete a MBTI® personality questionnaire (in advance, online),
Identify stress triggers unique to their MBTI Personality Type,
Recognize stress triggers in their workplace and family interactions,
Learn about their unique energizers and how to optimize them!
Learn how to build and maintain resilience strategies, useful throughout the year.
The Myers Briggs Type Indicator (MBTI ®) is the most trusted and widely used personality assessment instrument in the world. It measures an individual's natural psychological preferences based on the psychological types described by Carl G. Jung.
Register today and benefit from a holiday gift price
Registration fee: 125 EUR / per person (VAT EXCL.)
Register by sending an e-mail to Tamara.Sanne@SparxFactory.com or call Tamara on +32 477 42 36 60

More information in the flyer (see below).