Media
Sparx Factory interviewed for the AMCHAM Nation Branding
Posted on November 23, 2015
In preparation for AMCHAM Nation Branding event at KPMG Luxembourg, Chronicle.lu undertook a series of interviews with 25 AMCHAM members attending recent chamber events, asking them their views and perceptions of a number of countries, including Luxembourg; here is the video that was screened at the event. See what our Managing Director Catharina Biver has to say!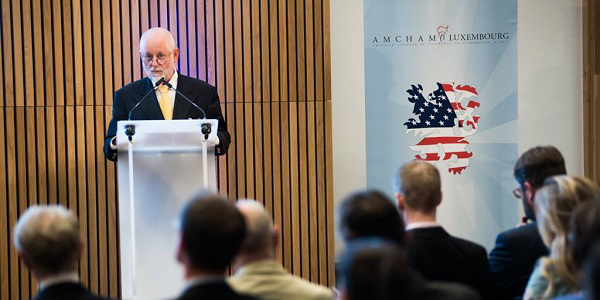 Amcham Nation Branding Video
Values, Bridges and Emotion to the Fore in Luxembourg Nation Branding
The key issues of emotions being key to building a brand and using Luxembourg's bridges as visual messages came to the fore at Thursday evening's AMCHAM event on Nation Branding held at KPMG's "39 JFK" Luxembourg headquarters that had been itself branded with the moniker "Apple Strudel".
Introduced and moderated by Chronicle.lu's Geoff Thompson, attendees were treated to a 10-minute video specially compiled for the event showing AMCHAM members attending recent events giving their impressions of different countries - including the US, Hong Kong, Germany, Belgium, Ireland and India - before turning their attention to Luxembourg. The purpose was to highlight the issues of perception and misconception, as well as stereotyping.
Tom Theves, Chef de Cabinet at the Ministry of Economy addressed the thinking and reasoning behind the government's Nation Branding initiative. He stressed that this issue was not to create an advertising campaign but to create and promote values, which itself would define images. He explained how the initiative commenced with a survey of a thousand people on their views of Luxembourg, addressing three separate groups: Luxembourg nationals, foreign residents and cross-border workers. It was interesting to learn that different groupings had different perspectives, with Luxembourg nationals seeing themselves a little differently than how others saw them.
Following this, around 200 people from different sectors were invited to attend workshops to discuss the image of Luxembourg; another 8,000+ opinions were received online. Then, in May, a second survey was commissioned, asking for feedback on the outcome of the workshops. Many ideas were then formed, with that of bridges rising to the surface, being used to covey a range of positive images, and values, about Luxembourg. Other values identified at this stage included leadership, creativity, openness (linke to multi-lingual and multi-cultural communities), dynanism and reliability (political stability, security, etc.).
The blueprint will be made available to the public and the task is now to translate the values into messages to be deployed in the rollout phase.
Georges Bock, Managing Partner at KPMG, talked about attracting Fintech, etc., to Luxembourg. There is now a trend for small companies to start from garages and then have a big impact on the country, with technology being the new sector. He stressed that we need to attract the right talent to Luxembourg and acknowledged that young people want a certain lifestyle and not necessarily work in offices. Luxembourg must be a place to welcome these people; he highlighted Singapore and Hong Kong as small places that recognise diversity and which are now leaders in particular areas. He pressed home the issue of trust and hoped that Sunday's vote would be a Yes for diversity.
He asked who would win the race, banks or technical companies? and stressed the need for collaboration. He hinted that maybe the banks have not understood the power of technology and we need a new ecosystem for ICT - we all need to help and contribute.
Paul Schonenberg, Chairman of the Comité National des Etrangers (CNE) and Chairman of Amcham, focused on the expatriate perspective and said that sometimes there is the feeling of a two-part society: Luxembourgers and nationals, and stressed that many politicians and leaders are open. Luxembourg is a brilliantly inclusive society that is highly tolerant - for the foreigners it is a virtue and a pleasure to live and work here: they are here for economic empowerment.
He called on the need for less bureaucracy and for the government to embrace entrepreneurship. Education in English is improving. There is still the need to empower the international community on participation.
Frédéric Becker, Head of Start-up Support Services at Luxinnovation, talked about attracting start-ups to Luxembourg. He referred to Silicon Valley where over 80% of successful entrepreneurs/start-ups are non-American (defined by the ability to attract venture capital). In Luxembourg, around 300 projects cross the desks at Luxinnovation annually across a range of sectors: ICT, FinTech, space, EcoTech, Industry and Logistics.
One benefit of Luxembourg to attracting foreign companies is the stability here, in that there are no workforce strikes, both economically and politically. He stressed that we should focus on Luxembourg's strengths.
Troy Bankhead, Head of Marketing at Kneip, presented a marketing spin on Luxembourg. He said that Nation Branding is about invention and promotion, with the notion of a brand breaking through all barriers as it touches everyone and gives meaning. He quoted strong branding examples such as Nike, Coke and the Beatles, all for different and contrasting reasons.
We are all influenced by our emotions and by brands. Why "Brand Luxembourg"? Whether we like it or not, we need it. He raised the issue of Kazakhstan and the film "Borat" which did not paint a positive picture of the country; nevertheless, afterwards, tourism figures soared. Also, Apple is another brand that has proved to be a winning formula.
After a hugely interactive Q&A session involving the audience, all attendees were invited onto the KPMG Plage for a post-event reception.
Chronicle.lu